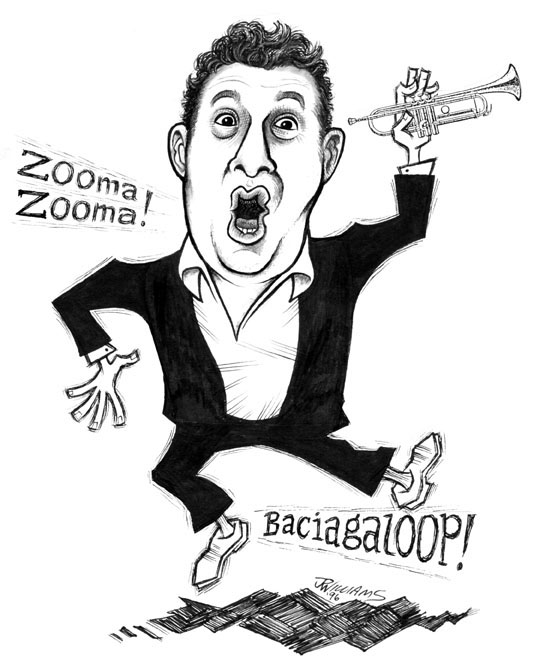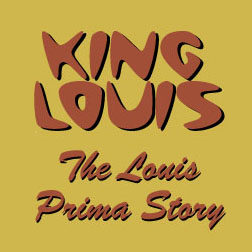 by Ed Kaz!
From Issue #4 of Cool And Strange Music Magazine (Now out of print)
"HERE IN SHORT, ARE LOUIS AND KEELY AT THEIR ANTIC, FRANTIC­EVEN ROMANTIC­BEST."
- Excerpt from liner notes: "The Hits of Louis and Keely"
"WHO'S THAT GUY DOIN' THE DAVID LEE ROTH SONG?"
- Anonymous youth: upon hearing "Just A Gigolo" Italian-American Feast, 1996
"THAT'S US, MAN! THAT'S US!"
- Louis Prima: upon hearing the first playback of "Just A Gigolo"
- Capitol Studios, Hollywood, 1956
Illustration by J.R. Williams
If you're reading this article, you're no doubt you're just like me­an avid collector of all things musical, especially those vinyl offerings that may be a little less (or is it more?) than mainstream. Whenever I'd set out on one of my frequent record-hunting expeditions, Pasquale, my father-in-law, would never fail to shout to me as I walked out the door,
"Hey Ed! If you find any Louis Prima albums, pick 'em up for me!"
"Yeah sure OK bye!"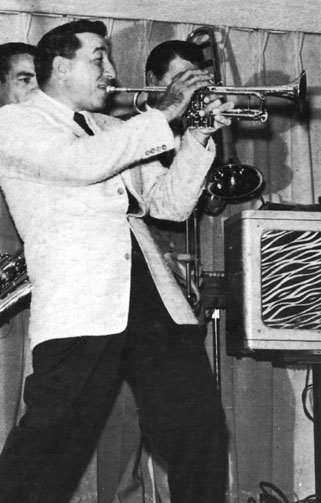 Just who was this Prima guy anyway? Some sort of Jerry Vale/Enzo Stuarti-middle-of-the-road-type-crooner? I later found out that I couldn't have been further off the mark. Eventually, Pasquale (long since giving up on me), took matters into his own hands by journeying to the mall and special-ordering a Prima best-of album that was issued by Rhino in the mid-80s.
When I finally dropped my guard and listened, this incredible music - it was like NOTHING I ever heard before - leapt from the speakers and grabbed me by the heart. Songs like "Banana Split for my Baby", "Hey Boy! Hey Girl!", and "Jump, Jive and Wail", along with several Tin Pan Alley standards turned inside-out by this gruff, bellowing, voice that always seemed to have a smile attached to it. The sound that washed over me that fateful afternoon was as riotous as a Fourth of July bocci ball match and as vital as Sunday morning's sauce. "So THAT'S Louis Prima!"

I was hooked. I had to know more. Thus began my personal quest for any music and information I could find about this incredible performer. And the more I researched into his life and career, the more I realized that if anyone deserves to have a book and a movie made of his life, it is Louis Prima. Louis Prima is probably best known as the undisputed King of the Vegas lounges back in the 50s and 60s, when the gambling town was in it's infancy, and the only rule was that there were no rules.

According to Bob Pepitone - The preeminent Prima collector, scholar and fan, Louis is single-handedly responsible for turning Las Vegas into the premier adult entertainment mecca of the world in the 1950s. Now, when I say lounge music here, I don't mean the kind of laid-back "easy listening/cocktail music" that it's come to be defined as.
Quite the contrary: Louis Prima, along with singing partner Keely Smith, with backing by Sam Butera and the Witnesses, would wail wildly into the wee small hours of the morning, slicing through the noise and smoke of the gaming floor with half the effort that it took Chuck Heston to part the Cinemascopic Red Sea. They were known as "show people's show people".
The Chairman and The King could be counted among the faithful attending their riotous gigs at The Sahara (although I kind of doubt if they ever shared a table.). It's always been difficult to place a label on Prima's music.
Is it... Jazz? R&B?? Swing??? Novelty???? Rock 'n Roll????? Well, friends, Louis Prima's music is all that and more! Nick Tosches, in his essential book "Unsung Heroes of Rock and Roll" is arguably the first person to cite Prima as an influence on Rock Music.
"Prima presaged the Rock 'n' Roll of the Ridiculous. ... His was a brave new world of chrome, not gold; of Armstrong linoleum, not Carrara marble; of heptalk, not meaningful dialogue (what did words matter to Louis, when noise could be made instead?)."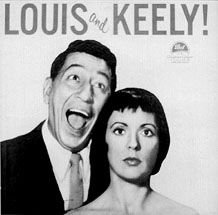 And what a glorious noise it was. However, it's quite tempting - what with titles like "Pleeza No Squeeza Da Banana", "Hitsum Kitsum Bumpity Itsum" and "Felicia No Capicia"-to dismiss the music as nothing but kitsch. I BEG to differ. If we must label it, how about "Kitsch with CHOPS"? Louis Prima was a gifted jazz vocalist and skillful trumpet player who surrounded himself with exceptional musicians. His gruff scat-singing and penchant for hitting high notes indicate a serious Armstrong influence, yet he forged a frenetic style that was his and his only.

Sadly, Louis has never received his due from the "Jazz Elite", probably because he considered himself a showman first and EVERYTHING ELSE second. Pepitone recalls the time when he placed a call to jazz station in New York City which was doing a tribute to Benny Goodman, and asked the DJ if he would do a program featuring Louis Prima's music. The condescending DJ paused briefly, then in a tone dripping with sarcasm, asked, "Who's Louis Prima?"

Born on December 7, 1911, in The Land Where Jazz Began: New Orleans, Louisiana, Louis started playing at a very early age; first the violin, and later his older brother Leon's trumpet. By his twelfth birthday, he and fifteen-year-old Leon were leading their own jazz combo. By 1933, Prima was making his first recordings for Bluebird with the Hotcha Trio. The following year he formed a "Hot Jazz" group, The New Orleans Gang, which played in the style of Louis Armstrong's Hot Fives and Sevens. The "Gang" appeared regularly at one of the most important jazz clubs of the era, The Famous Door in New York City. Prima's immense popularity led to numerous big screen appearances including Swing It and Rhythm on the Range which featured Bing Crosby and Martha Raye.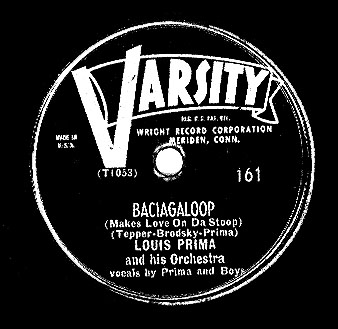 In 1937, he composed "Sing, Sing, Sing", which, in the version recorded by the Benny Goodman Orchestra, came to be the enduring anthem of the Swing Era. The Forties found Louis fronting a big band of his own: The Gleeby Rhythm Orchestra. This was the setting where Prima finally found his sound: Tight swinging arrangements filtered through his unique humor and Italian sensibility. His vocalizing has been defined by the Penguin Encyclopedia of Popular Music as "a nonsensical mixture of jivespeak, Neapolitan slang and just plain bad English".

It didn't matter. His 78s were scooped up by people of EVERY ethnic background. His hits included "Robin Hood" in 1944, "Bell Bottom Trousers", which reached number ten on the Hit Parade in 1945, and "Civilization", which sailed to number eight in '48.

Not to be overlooked is the classic "Baciagaloop (Makes Love on the Stoop)"-a musical forum on sex addiction-about a hapless fellow who just can't seem to get enough. His problem is that he has so many children in his house that he's forced to perform the dirty deed on the stoop outside because "...it's the only place that he can be alone!" One of his most popular sides was "Angelina", which captured the essence of the Italian Experience: Food and Love: "I'd eat antipasto twice, just because she is so nice, Angelina! Angelina! The waitress at the pizzeria!"

Jazz critics of the period were not entirely negative. In the June '45 Metronome, George T. Simon wrote:
"Prima's success, is both a healthy and a happy phenomenon. All Louis does is go out in front and have himself a helluva good time, acting like a natural showman, kidding around, poking fun at folks out front, at guys in his band, and, most of all, at himself."
To give you an idea of the charisma Laughing Louis had with audiences, one needs only to ask Pepitone, who regularly attended his shows at the New York Strand in Times Square. "...when Prima was singing "Angelina", fans would run down the center aisle and place hot pans of lasagne and pizza on the stage. [a nosh pit?] Louis would smile, turn to his band and say 'We eat tonight!' "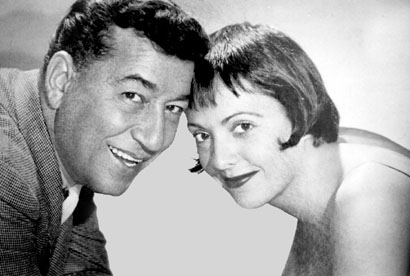 In 1948, Prima replaced his "girl singer" Lily Ann Carol, with a teenager from Virginia named Keely Smith. The hackneyed cliche "opposites attract" was never more true than in the case of Louis and Keely. Their onstage chemistry was immediate. In Keely, Louis had his ticket to The Promised Land.

As the Age of Ike beckoned, the Big Bands were fast moving towards extinction. Basically, it just didn't pay to keep a sixteen-to-twenty piece band on the road anymore, and for The Gleeby Rhythm Orchestra the venues were drying up. Switching into survival-mode, Prima rolled the dice and landed a booking in Vegas. Here, he hooked up with a new smaller combo, led by fellow New Orleans native Sam Butera. This ready-made group (dubbed "The Witnesses" by Sam in a late-night-onstage, heat-of-the-moment ad-lib), became the perfect foundation on which Louis and Keely could build their act, which combined the passionate Crescent City Jazz of his early years with the fun and clowning that later became his trademark. Keely Smith's laid back, sultry vocals and deadpan stage manner contrasted heavily with Louis' boisterous no-holds-barred attack.

As she calmly delivered a ballad, The Wild One would cavort about the stage, mugging and joking, making every attempt to break her up. Yet at the song's conclusion they would share a single mike, and inexplicably, Louis and Keely would blend together as flawlessly as Gin and Tonic. Louis, Keely, Sam and the Witnesses would play five shows a night, taking no prisoners with tunes like "The Sheik of Araby" (complete with NC-17 lyrics), "Zooma Zooma!" and the shuffling rocker "Just a Gigolo/I Ain't Got Nobody", which three decades later would become a mega-hit (for a certain twice-deposed lead singer of a certain pop-metal band), thanks to the gratuitous lifting of Butera's arrangement-lock, stock and sax-solo.
They were a word-of-mouth sensation, packing the Casbar Lounge to the rafters show after show. Prima's Sicilian Symphony eventually caught the ears of producer Voyle Gilmore of Capitol Records. Gilmore decided the best way to capture the feel of Louis' performances was to record the band live in the studio, with no overdubs. Capitol even went so far as to send recording engineers to Vegas and Tahoe to catch him in the act. The glorious results are albums with such provocative titles as The Wildest!, Las Vegas Prima Style, Strictly Prima!, and The Wildest Show at Tahoe.
And if the frugal record buyer still needed some convincing, the liner notes would help close the sale:

"By all odds, the combination of Louis Prima and Keely Smith shouldn't work. How could Louis, a confirmed inciter to riot, and Keely, normally a model of smoky-voiced sobriety, do anything but clash? But clash they don't. Explode they do!"
-The Hits Of Louis And Keely, Capitol Records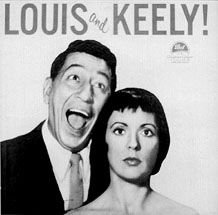 The explosion in The Silver City and on long players led to many TV and film appearances, including eight bookings on the Ed Sullivan Show, where he was allowed to play extended sets and regularly brought down the house, casting his bawdy spell on America's impressionable youth. Louis even wailed at the Dawn of Camelot, performing at JFK's inaugural ball-at the behest of Frank Sinatra- sharing a bill with the likes of Jimmy Durante and Nat King Cole.

"So leave a light in the window, Mother, and put the key under the welcome mat...the Wildest is coming home!
- The Wildest Comes Home, Capitol Records

Exiting Capitol in 1961, Prima signed an extremely lucrative deal with Dot Records. His divorce from Keely later that same year ended their professional relationship as well. Happily, Sam and the Witnesses remained on the payroll, while Louis took a FIFTH wife-Gia Maione (pronounced, as Prima would say, "MY OWN!")-who became his newest singing partner.
In 1967, the renowned squares at Disney had a sudden attack of hipness when they decided to cast Louis in the animated feature, The Jungle Book. A truly inspired sequence finds King Louie the Orangutan (Our Hero) rendering a safari-scat-duet with Baloo the Bear (Phil Harris). "King Louie" is arguably his most celebrated performance and the crowning achievement (pun intended) to an amazing life and career.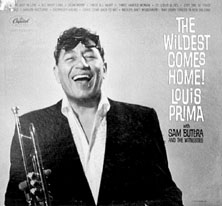 As musical tastes in the 70s changed once again, Louis and the Witnesses decided to bring it all back home, returning to their New Orleans roots and taking an extended residency in The French Quarter, devoting his twilight years to confirming what the faithful already knew. In 1975 he underwent brain surgery to remove a tumor, lapsed into a coma, and passed away three years later.

But Louis Lives!...most notably on Hollywood soundtracks. "Gleeby Rhythm" provides the backdrop for a great many celluloid offerings, including "Mr. Saturday Night", "Cobb", "Casino", "Big Night", and that memorable scene from "Mad Dog and Glory", wherein starry-eyed medical examiner Robert Deniro, fresh from a night with Uma Thurman, arrives at the scene of a grisly mob hit, only to promptly select "Just A Gigolo" on the juke box. As he extracts samples from the victim's body, he gleefully cavorts and Kariokes along with The Wild One.
"There will come a day When youth will pass away. What will they say about me? When the end comes I know, they'll say 'just a gigolo'. Life goes on without me!"
As his stunned colleagues look on in disbelief, Deniro exclaims: "LOUIS PRIMA! THE BEST!"
- © 1997 Ed Kaz!
All Rights Reserved
---
(This article is dedicated to the memory of The world's #1 Primafan Robert Pepitone, who passed away in July 1996, before my interview with him was concluded. Buona Sera, Bob.)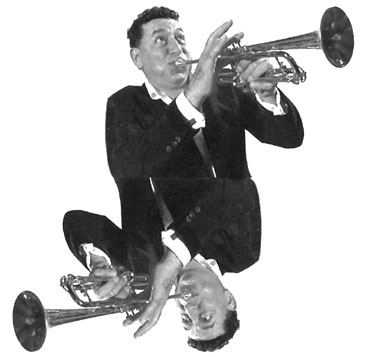 Read Ed Kaz' blog
and visit Ed Kaz's web page