(This article was originally published in the #14 issue of COOL AND STRANGE MUSIC MAGAZINE, which has long been out of print. However, writer Skip Heller has graciously given permission
for his article to be reprinted on this web page.)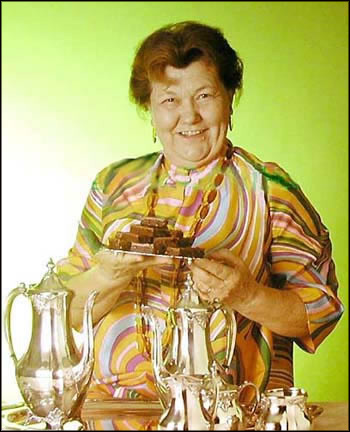 "Once when father was asked: `How can you stand it to hear old John Bell (who was the best stonemason in town) bellow off-key the way he does at camp meeting?' his answer was : `Old John is a supreme musician. Look into his face and hear the music of the ages. Don't pay too much attention to the sounds. If you do, you may miss the music. You won't get a heroic ride to heaven on pretty little sounds.' "

- Charles Ives, from Essays Before A Sonata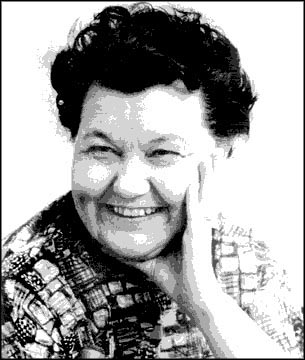 Charles Ives understood what his father, an exceptional musician, really meant. The real music of life is not always offered up in a neat little package ribboned with consonance. Charm often comes of imperfection. The unreliability of the world's elements to converge in perfect tune is often illustrated in Ives the vocal goes here and the accompaniment goesway the hell over there. Ives' rearrangements of hymns embody this quality. Seemingly out of tune soprano voices wind precariously out of time and pitch above musical backgrounds that, too, get weird. The Ives hymns are regarded as great American musical treasures of our century.
Which brings us to Elva Miller, who debuted as a Capitol Records artist in 1966. Ives has been the subject of many fine books, but the life of Mrs. Elva Miller has been scattered like dust to the four winds, and finding fact requires tenacity. Fred Bock, a highly regarded arranger/conductor whose focus was mostly choral music (he was also a fine organist and prolific publisher of choral music), discovered her and managed her during her stay at Capitol. He passed away in 1998, of post- operative complications. His widow, Lois, has been quite generous with her memories and, bless her, the family photo album. Nobody was ever a less likely candidate for pop music success. Mrs. Miller sounds like Ives' theory of how to modify the Protestant hymanal applied to sixties pop songs. Her skewered operatic warble is downright Ivesian.

Elva Ruby Connes was the third of seven children born to Edawrd Connes and Ada Martin on October 5, 1907, in Joplin, MO. The family soon moved to a farm in Jetmore, KS. At thirteen, she moved to Dodge City, KS, where she continued school, lived with a family named Porter, and joined a local Lutheran church choir. Upon graduating high school, she moved to Oklahoma, where she worked as a live-in housekeeper for a minister's family. During this time, she did some broadcasting at KGNO in Dodge City. What she sang is not known.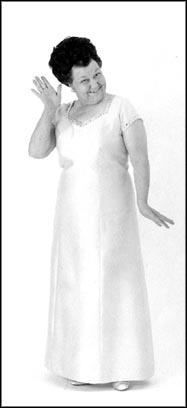 She married John Richardson Miller a professional investor thirty years her senior on January 17, 1934. They moved to Claremont, CA in 1935. The Depression affected Elva deeply, and, although Richardson was a man of means, she remained quite frugal, even after fame touched her life. Claremont is a lethargic desert town southeast of Los Angeles, mostly famous for Cal Worthington's used car lot on Foothill Blvd. Elva studied music theory, voice, and composition at nearby Pomona College. When is not known. (History is silent as to whether she and Frank Zappa who took at least one theory course there had any of the same teachers.)
Elva Miller busied herself with many church and community activities, among them the Girl Scouts, the Mayor's Committee For Senior Citizens In Los Angeles, the Los Angeles County Music Center, the University Of California Alumni Association, the Foothill Drama Society, and the Claremont Presbyterian Church (in whose choir she sang from 1958 through 1969).

Despite her prudent nature, she took on an expensive hobby - - recording. Her first effrorts were hymns intended to be played at funerals. Barry Hansen (Dr. Demento) picks up the story:
"She was apparently fairly wealthy enough to hire studios and musicians to make professional recordings. I've heard there were even vanity pressings, but I've never seen one. She apparently attracted the attention of an A&R man at Capitol [Lex De Azevedo], who thought she had some potential."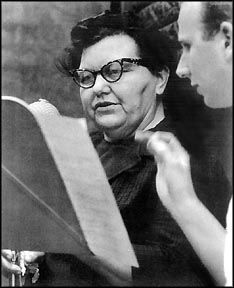 From Claremont to Capitol is two hours in average traffic. There is a piece of story missing here, being that an organist/pianist on these sessions, Fred Bock, by all accounts a smart man with a sharp sense of humor, knew he'd found something unique. Fortunately, he knew somebody of consequence in the music business.
Lois Bock recalls: "Mrs. Miller would come to the L.A. studios and make recordings to send as gifts to orphanages those old, old songs like ` Alice Blue Gown' in what she called her `operatic style', and, on one of these sessions, Fred talked her into doing `Downtown', which he took to Lex, who was an employee of Capitol at the time, and he heard something there." She was signed to the venerated label, and work began on her debut, Mrs. Miller's Greatest Hits.

Barry Hansen, a/k/a Dr. Demento raised an interesting point. "It took some imagination on Lex De Azevedo's part to make an album of her doing all rock 'n' roll songs. It certainly was a departure from what she had recorded before." Conventional legend has it that Mrs. Miller had no idea that she was a novelty act, but Lois Bock is quite clear about what Mrs. Miller was told. "Fred and I were honest with her. We told her it would be funny. And the audience loved it. The more they laughed, the more she would, you know, work it. I don't know if she knew more than she let on, because she was always quite a character. But she loved audiences."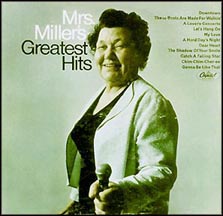 That first Capitol session yields, among other things, her cover of "A Hard Day's Night". It is a surreal performance. Elva has as much business singing the Lennon/McCartney anthem to doing a day's hard work in anticipation of sexual gratification as I have singing "Deutschland Uber Alles". The background singers make Up With People sound like 2 Live Crew. The backing band sounds like the whitest 1966 wedding you can imagine. Which is odd as the bassist, Jimmy Bond, was respected both as a Phil Spector/Beach Boys session ace and a jazzman, and the drummer on the date was no less than the great Earl Palmer, known for his work on every Little Richard and Fats Domino hit, not to mention "You've Lost That Lovin' Feeling".
The guitar solo is obviously a middle-aged session man trying to rock out. Elva throws every ounce of herself, out of key and in questionable rhythm, into the song. She misses fully a third of the words, she is often out of breath, and her operatic quaver renders the lyric almost indecipherable. This is Elva Miller's shot for the brass ring, and she goes for it. Nothing in her heart is hidden from that microphone. Every iota of her humanity is accounted for, on tape. It is a beautiful voice to behold, full of everything George Ives heard in the voice of John Bell.

It seems to have taken four sessions to complete that first Mrs. Miller album. God only knows what De Azevedo or anyone else at Capitol thought they had. No doubt they were surprised when Greatest Hits hit the charts and sold quite respectably. Also, the Elva-fied version of "Downtown" made the lower reaches of the Billboard singles chart. Imagine Plan 9 From Outer Space as a sleeper box-office hit. As does the work of Plan 9 director Edward D. Wood, Jr, Mrs. Miller gives us something in which there is so much human charm that we are disarmed by it. We laugh at first, because the ineptitude is so striking. But the enthusiam, heart, and, above all, frailty, touches the heart. Ed Wood and Elva Miller make us happy. And in ways that neither could ever have foreseen.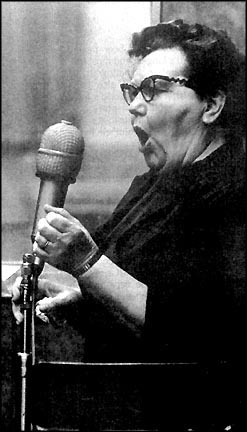 As Mrs. Miller immediately had her fifteen proverbial minutes (actually, about eighteen months). There were engagements in Lake Tahoe, sharing a bill with the Kingston Trio at the Sahara in July of 1966, and even an engagement at the venerated Cocoanut Grove. She appeared on such TV shows as Hollywood Palace (dueting with Jimmy Durante, no less), The Mike Douglas Show, and Art Linkletter's House Party, and did two guest shots on The Ed Sullivan Show, and even forayed into the magic world of film a low-budget American International Pictures release, The Cool Ones, for which the cast included Roddy MacDowell and one-time Elvis leading lady Deborah Walley. She even went to Vietnam to entertain our American troops, and was the subject of a Life magazine article (September 22, 1967).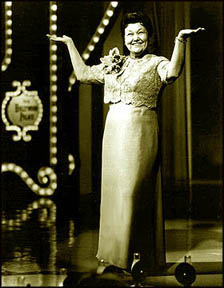 Capitol rushed Mrs. Miller back into the studio shortly after the release of Hits . The resultant Will Success Spoil Mrs. Miller? picks up where its predecessor left off, Elva imbedding her stylistic thumbprint on another bunch of then- current pop hits, ranging from "The Girl From Ipanema" to "Yellow Submarine". A little more money was spent. The arrangements are fuller, the production glossier, with the "twisted vocals on contemporary hits" recipe intact.

As to the question of whether success did in fact spoil Mrs. Miller, the answer is a resounding "No". Lois Bock: "She was comfortable, even moreso after the money started rolling in, but she was never very showy. She and Mr. Miller lived very simply in Clarmont. I travelled with her, and I was with her every day, and she was always a very sweet woman. Very caring. Very perotective of the people around her. Even after she had some success, she was always `Hometown Mrs. Miller, Claremont'. I was more sophisticated than she was in a lot of ways, but she got very upset if a man tried to talk to me, or if I left the hotel by myself at night. She was very old-fashioned.

"Nobody ever called her Elva. It was always `Mrs. Miller'. I remember one time we were sitting together at the Cocoanut Grove, and Natalie Schaeffer (Lovey Howell on Gilligan's Island ) was seated with us, and Mrs. Miller kept calling her `Mrs. Scaeffer'', and she finally said, `You may call me Natalie', and Mrs. Miller replied `And you may call me Mrs. Miller'.
"She was very proper . Once she walked off of a session at Capitol because a musician told an offensive joke. I talked her into going back, and they put a sort of glass booth around her so she couldn't hear the musicians talking."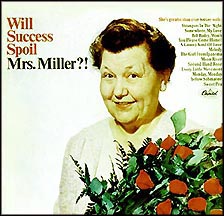 For her third Capitol album, The Country Soul Of Mrs. Miller , she covered songwriters like Buck Owens and the criminally under- rated Dallas Frazier, whose credibility will not be heightened by Elva's bie recording of "There Goes My Everything", which features Elva, overdubbed, in full vibrato, harmonizing with herself.

Elva remained unaffected, as did her frugal lifestyle, as Lois Bock recollects: "The second time she did Ed Sullivan's show in New York, she decided she wanted a keepsake of her success in New York. I asked her what she wanted, and she said her words `a lovely china soup tureen'. Well, I thought this was an unusual idea, but I took her to Tiffany's. We got off the elevator, and the sales girls were all, you know, `Hello, Mrs. Miller', and she was asking, `How do you know who I am? I live in California', and they told her that they had seen her the night before on Ed Sullivan.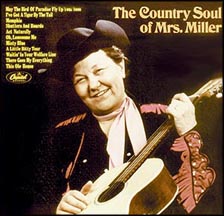 "They took us into a little alcove they had of soup tureens, and one of the shop girls asked `How much do you want to spend?', and Mrs. Miller said, `Oh, no more than six or seven dollars.' I bought a couple of things myself, to save face. I was always trying to get her to dress better for her personal appearances. Once, she had a performance in Salt Lake City. Well, she thought that it would be like Palm Springs, but it was really cold, and all she brought was this little, thin linen coat. So, when we were going to New York in winter, I told her she would need a heavy winter coat, and she said, `I have a coat and muff from when Mr. Miller and I went to New York', and I asked her when that was, and she said 1937. And that's what she wore!"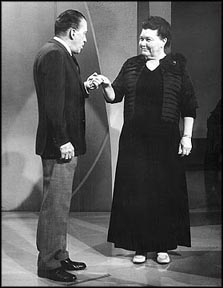 After three albums, Capitol did not renew her contract option. In 1968, Mr. Miller) died, and Elva moved to Hollywood. Her next release, Mrs. Miller Does Her Thing is unforgettable. Made without the involvment of either Bock or De Azevedo, and released on the tiny Ameret label, its cover featured Elva in full hippie regalia, holding a plate of green brownies (no doubt supposed to be you-know-what).

Thing is Elva's scathing glimpse into the drug-addled hippie life-style and the decay of American moral values. In " Renaissance Of Smut", the single from Thing, Mrs. Miller declares her social conscience. To call her naive is to be polite. It is a fascinating document of how wrong things can go. The pseudo-psychedelia is mind-boggling. Everytime I hear this, it scares me. Predictably, Mrs. Miller Does Her Thing made no dent in the marketplace. Ameret folded, and Elva took to putting out her own records.

As Lois Bock said, "She had a good run for eighteen months, which was seventeen-and-a-half more than anyone had a right to expect." Mrs. Miller continued to perform sporadically, playing more benefits than just about any performer I can name, including one to raise funds to build a hospital in her hometown Jetmore, KS. When the hospital was built, she personally furnished the nurse''s lounge. She also devoted much time to raising her niece, Audrey.

The self-issued singles on her Mrs. Miller label went into oblivion. She retired officially in 1973, resigning from the Screen Actors' Guild in honorable standing, and eventually settled into a condo at 9535 Reseda Blvd in Northridge, CA (the Valley). Unfortunately, in January 1994, the huge Northridge Quake destroyed the complex. Old age took its toll. Elva relocated to the Garden Terrace Retirement Center, in Vista, CA, where she died in 1997, at the age of 90. She is interred at the Pomona Mausoleum, near her beloved Claremont.

Mrs. Miller's last thoughts went unrecorded. She probably never heard of Charles Ives or Ed Wood, let alone knew that she was the tissue that combined their respective American visions. They are the Holy Trinity of something more powerful than ourselves. She couldn't have known.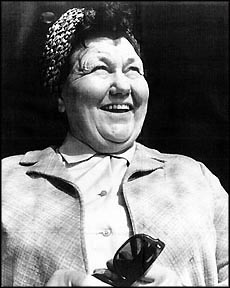 © 1999 Skip Heller
---
Author's note: Mrs. Miller's life story was researched with the help of the following very kind and patient Americans: Dana Countryman, Dina Michaels (at the Screen Actors Guild), Linda (at Fred Bock Publishing), Paris Simpson (at the American Federation Of Musicians), Barry Hansen, Kathleen Heller, Art Fein, and, most especially, Lois Bock, whose sweetness, generosity with time and archival materials, and her happiness to share made all the difference.
Publisher's note: Gratefrul thanks to Lois Bock and Jeff Springer for use of their photos, many of which did not apprear in the article, when originally published in COOL AND STRANGE MUSIC MAGAZINE.

###

---
Be sure to check out the official Mrs. Miller web site,
Mrs. Miller's World here.
© 1999 Skip Heller. All rights reserved. No part of this article may be reprinted without express written permission of the author.
Please visit http://www.skipheller.com/m